Business Details
BW Insect Control And Tree Care specializes in the cultivation and care of trees and shrubs, diagnosis, treatment, prevention of tree disease, and pest control.

Aborist/Certified Arborist or Applicators for hire who plan to apply any pesticides (regardless of use classification) to plants, trees, shrubs, grass, or other horticultural plants, must be licensed by either the Texas Department of Agriculture 3A ag category or the Structural Pest Control Service (SPCS).

Before you pay for high-cost removal or have your trees or shrubs cut down, give Certified Commercial Pesticide Applicator Dr. Bob White a call; you can rest assured the job will get done right.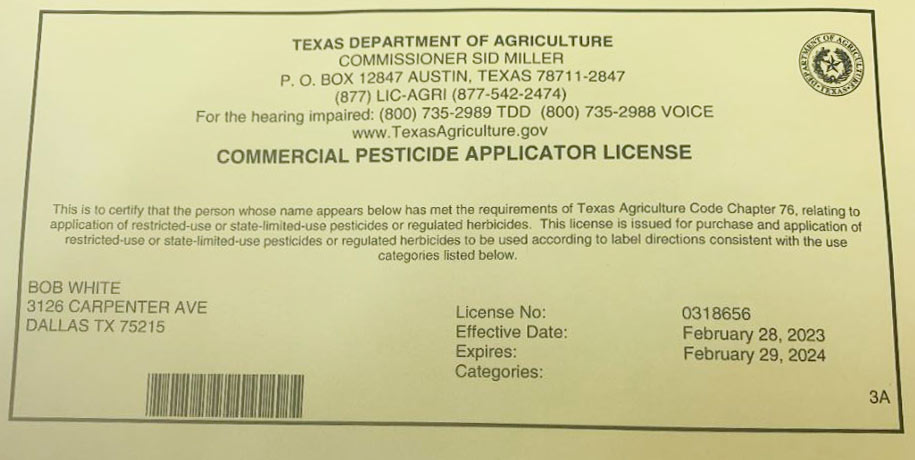 In Texas, tree & shrub treatment & tree injection services can ONLY be applied by licensed commercial pesticide applicators, including a Certified Arborist. Dr. Bob White is a Tree Doctor, Certified Applicator & Professional Experience Arborist.
We also have an ISA Certified Arborist on staff: Timothy Hall (TX-4588A)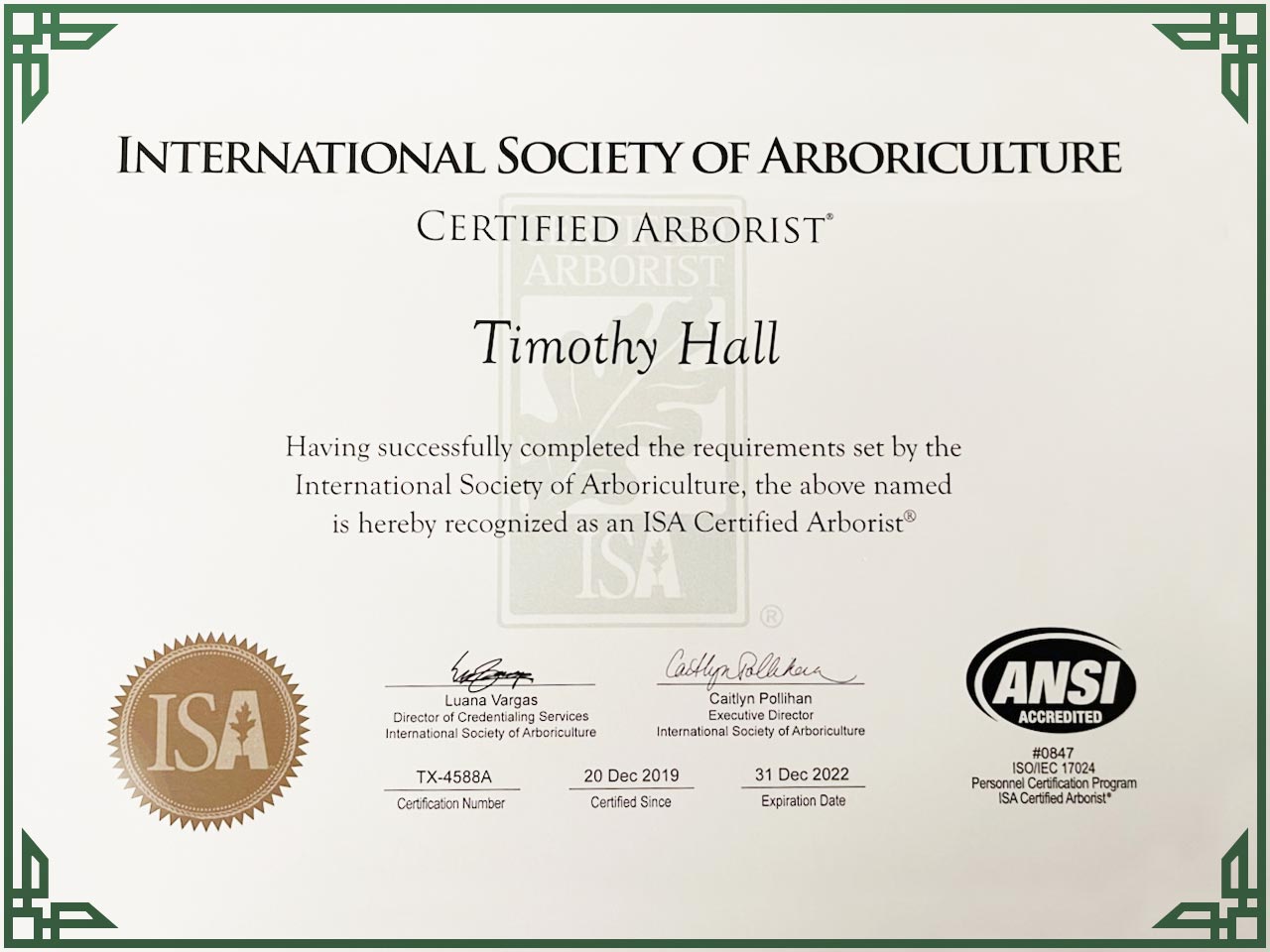 An ISA-Certified Arborist is able to fullfil various responsibilities reguarding your trees' overall health and appearance. Services include tree trimming, tree disease diagnosis, fertilization, soil conditioning, landscaping services, tree removal, and much, much more.
---
Call Now! (469) 565-5557
Don't Just cut your trees, treat them and save them, like God saved us!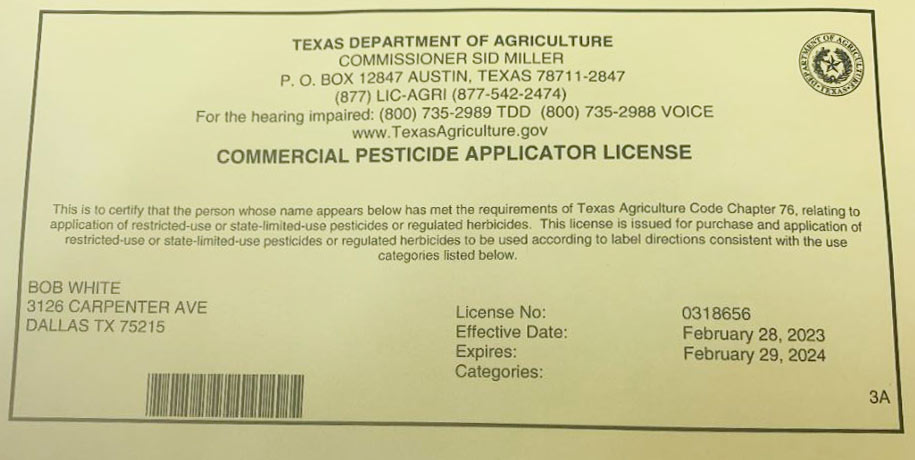 Licensed Certified Commercial Applicators are knowledgeable about the needs of trees such as caring for and maintaining and are trained and equipped to provide proper care. Proper tree care is an investment that can lead to substantial returns. Bob White Insect Control And Tree Care is a full-service tree care company offering a wide variety of Certified Applicator services.
Before you trim any branches or limbs consult a Professional Certified Applicator like Bob White at Bob White Insect Control & Tree Care. "Before you turn on that chain saw, pick up the phone and give me a call!" - Bob
Call to have a Licensed Certified Commercial Applicator come out to provide you with preventive tree & shrub care.
Anyone can fertilize, but you need a license to treat trees and apply pesticides. It's the Law! I am 1 of only 25 in the state of Texas certified to do so. Make sure your Arborist has a license. Any questions please contact: (516) 463-1102 Austin, Texas Texas Department of Agriculture
Congratulations to Bob White Insect Control & Tree Care! Winner of Angie's List Super Service Award for 7 counties! Dallas/Fort Worth, Austin, San Antonio, Waco/Temple, Corpus Christi, El Paso and Houston!
You've tried the rest, now try the best!
Call Now! (469) 565-5557
---
Licensed & Certified By Texas Department Of Agriculture
Specializing In Tree Care & Planting
Fertilization & Soil Management
Spraying & Deep Root Feeding
Spraying Trees & Shrubs
Plant & Tree Consultation, Analysis/Diagnosis
Drought Services
Root & Tree Injections
Disease Management
Insect Management
---
I'll Save Your Tree!!!
Trees Are Like People - They Need Help And Care!
When you need help or have a problem, call Dr. Bob White.
Serving The DFW Metroplex and Denton, Parker, Kaufman, Johnson, Ellis, Collin, Hunt, Wise, Somervell, Hood, Tarrant, Parker & other counties. We specialize in the identification, diagnosis, prevention & treatment of oak wilt disease, hypoxia, oak wilt & phytophthora. Tree care, spraying, deep root feeding, fertilizing, killing grasshoppers, fire ants and more.
Arborists and Entomology Experience. We use ONLY organic insecticides and pesticides while treating your most valuable possessions, your #1 investment - Your Trees and Shrubs. Proven eco-safe for children and pets! Licensed and Certified by Texas Department Of Agriculture TDA Lic # 0318656
Save A Tree, Save A Life! 30 Years Experience. When I Show The Bugs Go!
Testimonials
✔ Gail O. (Granbury, TX 5/10/2021) "Dr. Bob was delightful! Both he and his assistant Mike were professional, polite and did their work with the upmost care. I thoroughly enjoyed my conversations with Dr. Bob regarding all things about life and he added a different perspective to what I had previously thought to have been true. I am still in the waiting period to see how well my trees will respond to his treatment but I am 75% certain that his skill, experience and expertise will bring these trees through the damage they had experienced. I would highly recommend others to at least speak with Dr. Bob and let him explain the fine points of being someone who treats trees as opposed to removes them due to damage. If ever I were to need someone again to save my trees it would definitely be Dr. Bob. "
✔ Laura F. (North Richland Hills, TX 5/8/2021) "Mr. White is very knowledgeable and friendly."
✔ (Katharine M. - Garland, TX 4/6/2021)&nbsp"Treat, Protect and Maintain Trees & Shrubs - I am blown away!!! My Oak tree came back so healthy that it is the best looking tree on the block. I have pictures to prove it!! Well, it will not let me share my picture. Trust me, one happy lady!! It came back just as Bob said it would!!!!"
✔ (Don Schreiber 4/2017 - Southlake TX) This is Don Schreiber with yet another testimonial. Since the last time I wrote in 2013 both my sons have purchased property in the Dallas area, and we have relocated to a new office building in Southlake. I now have Bob taking care of my home, and office property, and both sons have Bob treating the trees on their respective lots. All of us could not be happier with the results. Just this spring Bob saved two pear trees on our office property that were in very poor shape and Bob brought them back. There is no one in the Dallas area that knows more about trees and how to save them than DR. Bob White!
✔ (Bobbie Ewing 4/2017 - Dallas, TX 75227)
I thank you, and the squirrels and birds thank you, for saving our trees, Dr. Bob! I was told by the tree man that my 60 year old elm tree was dead and needed to be cut down immediately. It had sad, gnarl branches and only a few dried up leaves. I believed the guy...the tree looked really bad. The tree had been a part of our family since we were kids and all of us were so sad to see it cut down. I told the tree guy that I remembered an awesome Tree Doctor that had saved my son's ten trees in Poetry, TX 5 years ago. We lost contact and had forgotten his name. He told me that he actually knew that man. He said that it was Dr Bob White and that he was in the Dallas area. I didn't hesitate to call this amazing tree expert, and he came over that same day. I'll never forget his kindness and encouraging words when he assured me that he could save my tree. He and his crew arrived the next morning and were very professional and thorough. The tree has been fully restored and is so beautiful! Everyone marvels at his expertise, and I am so happy that I was able to obtain his valuable second opinion.
Thank you, Dr Bob!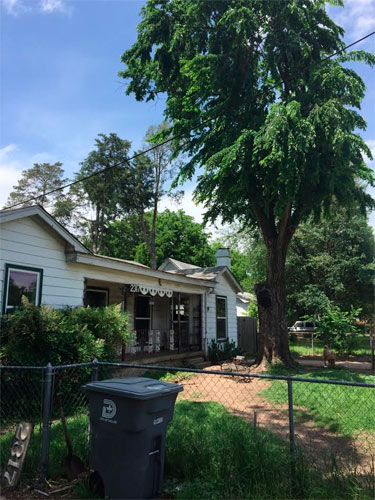 ✔ (Don Schreiber 6/4/2015) Bob White is the best in the business hands down.I've used him for over 10 years to treat large trees and shrubs at both my residence and commercial property. We have several 50 year old oaks which Bob has saved from serious insect disease on two occasions. I have a 40 year old pecan tree on my business property which everyone thought was dead. It had lost all its leaves by early September, and was dripping sap. Bob told me not to worry and by the next spring it was in great shape. That was 3 years ago and everyone that comes by our business comments on our beautiful pecan tree. My son also had a very expensive oak in his front yard which Bob rescued after it lost most of its leaves in early spring. Bottom line, if you have any kind of tree issue no matter how bad, this man can fix it.
---
(469) 565-5557
Serving
Our Service Areas
Dallas, TX, Plano, TX, Fort Worth, TX, Arlington, TX, Richardson, TX, Garland, TX, McKinney, TX, Frisco, TX, Carrollton, TX, Lewisville, TX, Flower Mound, TX, Irving, TX, Coppell, TX, Rockwall, TX, Aledo, TX, Rowlett, TX, Weatherford, TX, Benbrook, TX, Southlake, TX, Highland Village, TX, Highland Park, TX, Collinsville, TX, Wylie, TX, Whitehurst, TX, Waxahachie, TX, Granbury, TX, Burleson, TX, Prosper, TX, Celina, TX, Murphy, TX, Duncanville, TX, Sachse, TX, Addison, TX, Farmers Branch, TX, Lucas, TX, Fairview, TX, Allen, TX, Melissa, TX, The Colony, TX, Bent Tree Dallas, TX, Bent Tree North, TX, Little Elm, TX, Double Oak, TX, Oak Point, TX, Lakewood Village, TX, Annetta, TX, Annetta South, TX, Corinth, TX, Bartonville, TX, DeSoto, TX, Cedar Hill, TX, Red Oak , TX, Ovilla, TX, Annetta North, TX, University Park, TX, Farmersville, TX, Canton, TX, Caddo Mills, TX, Sulphur Springs, TX, Greenville, TX, Neveda, TX, Stephenville, TX, Erath, TX, Roanoke, TX, Westlake, TX, Prestonwood, TX, Argyle, TX, Azle, TX, Graham, TX, White Settlement, TX, Saginaw, TX, Crowley, TX, Haltom City, TX, Forest Hill, TX, Watauga, TX, Keller, TX, North Richland Hills, TX, Tyler, TX, Copper Canyon, TX, Lantana, TX Grand Prairie, TX, Cleveland, TX, South Lake, TX, Louisville, TX, Luling, TX, South View, TX, Midlothian, TX, Asheville, TX, Mineral Wells, TX, Aubrey, TX, Pilot Point, TX, Mesquite, TX, Mabank, TX, Waco, TX, Sherman, TX Anna, TX, Bonham, TX, Wiseberry, TX, Whitesboro, TX, Crandall, TX, Heath, TX, Royse City, TX, Quinlan, TX, Lancaster, TX, Fate, TX
Counties
Denton County, TX, Collin County, TX, Ellis County, TX, Hopkins County, TX, Kaufman County, TX, Van Zandt County, TX, Smith County, TX, Parker County, TX
Zip Codes
75048, 75077, 75032, 75219, 75025, 75041, 75048, 76210, 75032, 75182, 75093, 75229, 76092, 75048, 75098, 75024, 75025, 75026, 75074, 75075, 75086, 75093, 75094, 75088, 75089, 75030, 76092, 78746, 75002, 75013, 75077, 76048, 76049, 76085, 76086, 76088, 76201, 76203, 76208, 75234, 75244, 75022, 75027, 76119, 76140, 76051, 76092, 76099, 75077, 77562, 76226, 76244, 76262, 75069, 75070, 75071, 75078, 76008, 76087, 76109, 76116, 76126, 76132, 76082 and much more!