Business Details
I am Licensed with the Texas department of Agriculture, with over 30 years experience in pest control and tree saving Insect & Disease Treatment Services you can rest assure the job will get done right!
---
KILLING 'EM GRAVEYARD DEAD
---
Anyone can fertilize..but you need a License to treat trees, to apply pesticides etc. Certified Commercial Applicators License. It's the Law. I am 1 of only 25 in the state of Texas certified to do so. Make sure your arborist has a license. Any questions please contact: (516) 463-1102 Austin, Texas Texas Department of Agriculture
Before You Trim Any Branches or Limbs Consult a Professional Certified Applicator like Bob White at Bob White Insect Control & Tree Care. "Before you turn on that chainsaw, pick up the phone and give me a call!"
- Bob
Got a sick tree or shrub?

Call an experienced, state licensed, professional applicator to treat your tree or shrub today
FALL IS HERE! Don't lose your trees in the spring! fall is a great time to plant trees but protect the trees and shrubs you already have from Texas Oak Wilt Disease, Mistletoe, and other disease and insects. It's a lot easier to prevent Oak Wilt and Mistletoe than to treat it. Give your trees and shrubs the nutrients they need.
Call Now! (214) 274-7918
Don't Just cut your trees, treat them and save them, like God saved us!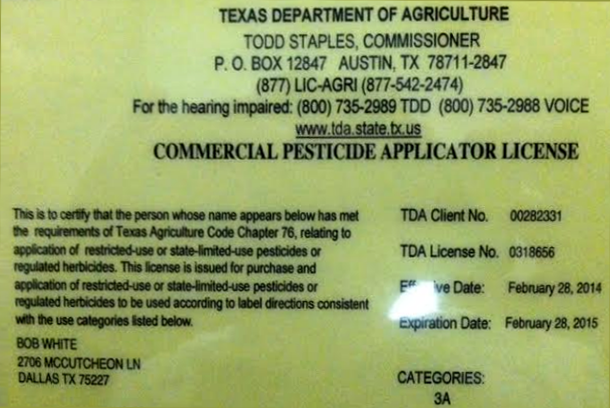 Congratulations to Bob White Insect Control & Tree Care! Winner of Angie's List Super Service Award for 7 counties! Dallas/Fort Worth, Austin, San Antonio, Waco/Temple, Corpus Christi, El Paso and Houston!
You've tried the rest, now try the best!
Over 32 Yrs. experience in treating/caring for trees & insect control/prevention.
Call Now! (214) 274-7918
---
Licensed And Certified By Texas Department Of Agriculture
Bob White Landscaping & Tree Service
Specializing In Tree Care & Planting
Trimming - Cutting - Stump Removal
Member Of Better Business Bureau
ISA Certified Arborist On Staff
Fertilizing
Arborist & Entomology Experience
Spraying & Deep Root Feeding
Residential And Commercial Demolition
Specialize In Killing Grasshoppers & Fire Ants Graveyard Dead
Spraying Trees & Shrubs
Serving The DFW Metroplex & Denton, Parker, Kaufman, Johnson, Ellis, Collin, Hunt, Wise, Somervell, Hood, Tarrant & Other Counties.
---
You must be licensed by the Texas Department Of Agriculture to treat trees and shrubs in the U.S.A.
I'll Save Your Tree!!!
Trees Are Like People - They Need Help And Care!
When you need help or have a problem, call Dr. Bob White.
Serving The DFW Metroplex and Denton, Parker, Kaufman, Johnson, Ellis, Collin, Hunt, Wise, Somervell, Hood, Tarrant, Parker & other counties. We specialize in the identification, diagnosis, prevention & treatment of oak wilt disease, hypoxia, oak wilt & phytophthora. Tree care, spraying, deep root feeding, fertilizing, killing grasshoppers, fire ants and more.
Arborists and Entomology Experience. We use ONLY organic insecticides and pesticides while treating your most valuable possessions, your #1 investment - Your Trees and Shrubs. Proven eco-safe for children and pets! Licensed and Certified by Texas Department Of Agriculture TDA Lic # 0318656
Save A Tree, Save A Life! 30 Years Experience. When I Show The Bugs Go!
---
(214) 274-7918
Serving Dallas, TX, Plano, TX, Fort Worth, TX, Arlington,TX, Richardson,TX, Garland, TX, McKinney, TX, Frisco, TX, Carrollton, TX, Lewisville, TX, Flower Mound, TX, Irving, TX, Coppell, TX, Aledo, TX, Parker County, TX, Rockwall, TX, Weatherford, TX, Benbrook, TX, Granbury, TX, Southlake, TX, Highland Village, TX, Collinsville, TX, Wylie, TX, Whitehurst, TX, Waxahachie, TX, Burleson, TX, Prosper, TX, Celina, TX, Murphy, TX, Farmersville, TX, Candon, TX, Caddo Mills, TX, Sulphur Springs, TX, Greenville, TX, Hopkins County, TX, Neveda, TX, Rowlett, TX, Roanoke, TX, Westlake, TX, Argyle,TX & Van Zandt County
Zip Codes: 75048, 75077, 75032, 75219, 75025, 75041, 75048, 76210, 75032, 75182, 75093, 75229, 76092, 75048, 75098, 75024, 75025, 75026, 75074, 75075, 75086, 75093, 75094, 75088, 75089, 75030, 76092, 78746, 75002, 75013, 75077, 76048, 76049, 76085, 76086, 76088, 76201, 76203, 76208, 75234, 75244, 75022, 75027, 76119, 76140, 76051, 76092, 76099, 75077, 77562, 76226, 76244, 76262, 75069, 75070, 75071, 75078, 76008, 76087, 76109, 76116, 76126, 76132, 76082 and much more!